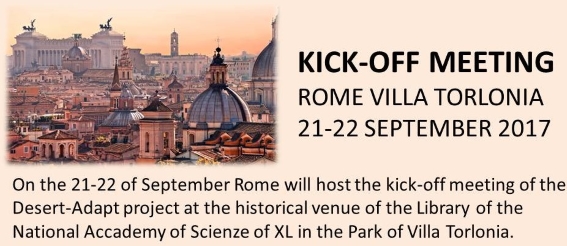 THE  KICK-OFF MEETING EVENT 

 

Desert-Adapt partners have joined the kick-off meeting in the beautiful library of the National Accademy of Science of XL (40).

 

The president of the Accademy, Prof. Emilia Chiancone has opened the 21st morning session, welcoming the project with this most promising introduction:

"The Society of Forthy (XL) was founded in 1782 by putting together the fourthy most eminent scientists of the period from all the Italian peninsula, which, in that historical moment was divided into many States. A superior goal, in this case the advancement of the scientific knowledge, was the cement to create the first embrionic form of Italian aggregation."  

Seven of its national members have received the Nobel Prize: Marconi, Golgi, Fermi, Natta, Bovet, Rubbia e Levi-Montalcini.

Together with Italian members the Society, since its start included 12 foreigner scientists, now 25. In more than two centuries the Society has welcomed more than 174 eminent scientists from all over the world  from Condorcet to Pasteur, Franklin, Einstein, Humboldt, Monod, Liebig, Salam, Mendeleev, Röntgen, Bohr, Perutz, Chain, Odhiambo and more.

 With the insipiring message that "the commonality of intents is the most powerful driving factor for success" and that "international collaboration fosters knowledge and experience growth" we have opened the working session of the Desert-Adapt project.

The two days of presentations have included techical and administrative aspects related to the project management, have introduced all the partners from 4 countries, with different backgrounds and experiences from land management to science to technology development for stakeholder use.

A full view of project outlines and basic administrative issues has been given by Marco Bijl (FSG). A full half day discussion has been dedicated to present the methodologies to be applied for the project technical implementation, field monitoring and methods for the determination of project performance indicators

The road map for the future actions of the project has been discussed together with our partners who will implement the actions of the project in their land, the Landowners.

Even if we are in an embrionic phase of the project, the kick-off meeting has given us the clear perception of how much we can do and we can learn joining our differences. We expect the project Desert-Adapt to be a fruitful and reach experience for all the partners.